Former Central Intelligence Agency (CIA) acting director Michael Morell misled the signatories on the letter falsely claiming Hunter Biden's laptop was Russian disinformation, according to a new report.
The New York Post published a report on Sunday revealing Morell told the 51 signers of the letter that he would "clear the statement with the Publication Review Board at CIA" the day following him reaching out regarding the younger Biden's laptop from Hell.
An Oct. 18, 2020 email obtained by the Post revealed that Morell asked the signatories, which included former CIA Directors John Brennan, Leon Panetta, and Mike Hayden, to sign the letter that he and former CIA agent Marc Polymeropoulos drafted.
WHITE HOUSE REPORTEDLY 'WORRIED' OVER HUNTER BIDEN GOING ROGUE WITH LEGAL DEFENSE PLAN: 'LEGITIMATE HEADACHE'
Morell wrote that he "drafted the attached because we believe the Russians were involved in some way in the Hunter Biden email issue and because we think Trump will attack Biden on the issue at this week's debate and we want to give the VP a talking point to use in response."
Additionally, Morell asked the signatories to "highlight" their "Russia work" in their signatures and said he would get the CIA's blessing to publish the piece "tomorrow."
Politico published the CIA letter on Oct. 19, 2020, the day after the email was sent, preventing an agency review of the letter before its publication.
The letter also did not include the agency's disclaimer language separating itself from the views of the letter's authors.
Morell said in his email that he wanted to provide a "talking point" for President Biden ahead of his final debate with former President Trump three days later.
The CIA did not immediately respond to Fox News Digital's requests for comment on the report.
The revelation comes as the White House is reportedly "worried" over the president's son going rogue in his legal defense strategy.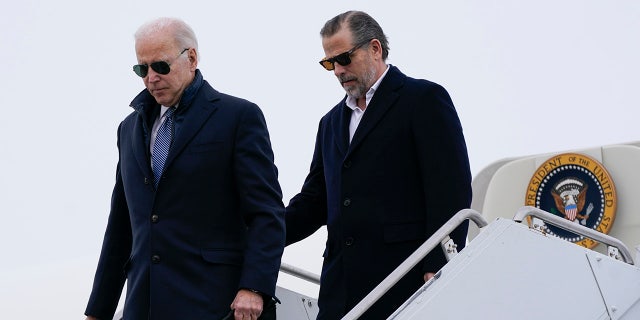 The report claimed Friday that "tensions" between Hunter Biden and President Biden's aides over his legal defense have led Hunter Biden to hire a new lawyer for a more "combative approach" without consulting with his father's legal advisers.
CLICK HERE TO GET THE FOX NEWS APP
A former top Department of Justice spokesman noted that the younger Biden going rogue with his legal decisions and perhaps pushing past the "guardrails" that the president's advisers would have him follow could be "a legitimate headache for the White House."
The tensions between Hunter Biden and the White House over his legal defense have risen as the president's son is facing investigations on several fronts. There's the DOJ investigation into his potential charges of tax fraud and illegally purchasing a firearm, investigations into his foreign business dealings by Republicans in Congress and also a child support court case in Arkansas.
Morell did not immediately respond to Fox News Digital's request for comment for this article.
Fox News Digital's Gabriel Hayes contributed reporting.