Ukrainian President Volodymyr Zelenskyy reportedly had private talks with Pope Francis at the Vatican on Saturday, following his meeting with Italian Prime Minister Giorgia Meloni in Rome.
In a tweet following the 40-minute audience with the pope, Zelenskyy expressed gratitude to Francis for "his personal attention to the tragedy of millions of Ukrainians". He said he spoke to the pontiff about "the tens of thousands of deported (Ukrainian) children", stating that "we must make every effort to bring them home".
"Furthermore, I asked to condemn (Russian) crimes in Ukraine. Because there can be no equality between the victim and the aggressor," Zelenskyy added. "I also talked about our Peace Formula as the only effective algorithm for achieving a just peace. I proposed to join its implementation."
Last month, Ukrainian Prime Minister Denys Shmyhal asked the pope to help bring children from Russia back to Ukraine. The Vatican statement on Saturday made no mention of the request; instead, the Vatican said the two men spoke about the "humanitarian and political situation in Ukraine provoked by the ongoing war".
UKRAINE GAINS IN BAKHMUT AMONG SPRING OFFENSIVE WORDS; WAGNER TANTRUM CONTINUES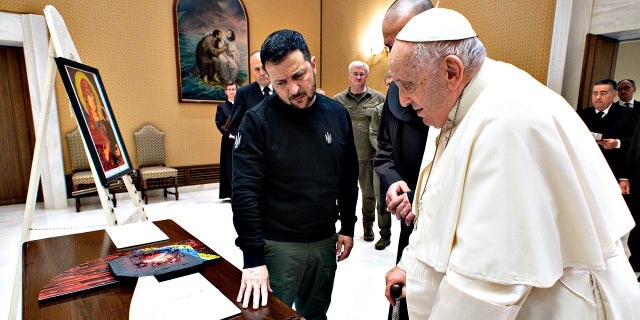 "The pope has assured his constant prayer, witnessed by his numerous public appeals and his continuous invocation of the Lord for peace, since February last year". 2022. Zelenskyj last met the pope in 2020, before the war in Ukraine started, according to Politico.
Zelenskyy's 10-point "peace" plan would establish a special tribunal to prosecute Russian war crimes. He would also create a European-Atlantic security architecture with guarantees for Ukraine, restore Ukraine's damaged electricity infrastructure and ensure security around Europe's largest nuclear power plant in Zaporizhia.
In a press conference on Saturday, Meloni expressed Italy's support for Ukraine's goal of becoming a member of the European Union and the "intensification" of a partnership with NATO.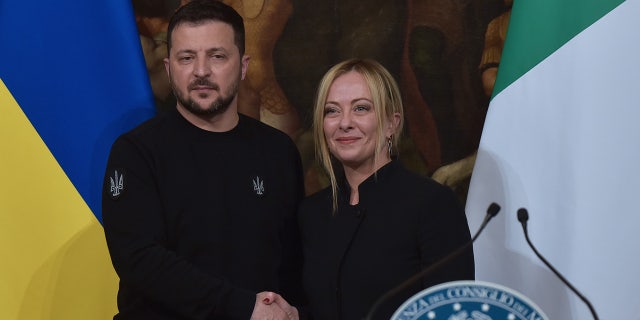 "The message is clear and simple," Meloni said after a meeting with Zelenskyj that lasted more than an hour. "Ukraine's future is a future of peace and freedom. And it is the future of Europe, a future of peace and freedom, for which there are no other possible solutions".
AMERICAN AND IRISH MILITARY EXPERTS TRAIN 2 GROUPS OF UKRAINIAN PERSONNEL TO CLEAR UNREPORTED MINEFIELDS
Meloni, who strongly supports military aid to Ukraine, said Italy would support the country "at 360 degrees for as long as necessary and beyond".
Separately, Italian President Sergio Mattarella told Zelenskyy: "We are completely by your side." Sources at the presidential palace also said Mattarella assured his host that Italy would continue to support Ukraine militarily and financially, as well as with reconstruction and humanitarian aid.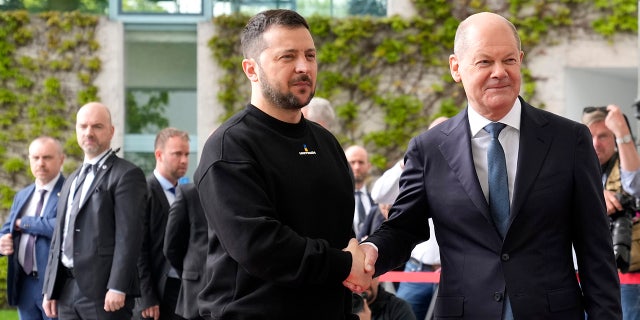 Zelenskyy then traveled to Berlin, where he was welcomed on Sunday in his first visit to Germany since Russia invaded Ukraine.
During a press conference, German Chancellor Olaf Scholz told Zelenskyy that his government would support Ukraine "for as long as necessary".
Zelenskyy said his country was preparing a counter-offensive designed to liberate Russian-occupied areas, not attack Russian territory. On the eve of Zelenskyy's arrival, the German government announced a new military aid package for Ukraine worth more than 2.7 billion euros ($3 billion), including tanks, anti-aircraft systems and munitions.
CLICK HERE TO GET THE FOX NEWS APP
"I thank Germany for the largest military aid package since the start of the full-scale Russian invasion," Zelenskyy tweeted. "German air defense systems, artillery, tanks and infantry fighting vehicles are saving Ukrainian lives and bringing us closer to victory. Germany is a reliable ally! Together we are bringing peace closer!"
The Associated Press contributed to this report.