A violent road accident in northern Mexico left at least 26 people dead on Sunday, authorities said, after a passenger van and a cargo truck collided.
Prosecutors and police in the northern border state of Tamaulipas said the death toll was a preliminary count due to the sheer volume of the wreck and the fire that engulfed the van and cargo trailer. The cab that was pulling the cargo trailer was not found at the scene, suggesting the driver may have unhitched it and fled.
The crash occurred on a highway near the state capital, Ciudad Victoria, which is about 214 miles south of McAllen, Texas, and the cause was under investigation, officials said.
Reuters quoted the Tamaulipas public safety ministry as saying two vehicles crashed about half an hour outside the state capital and then caught fire.
TEXAS SENDS MIGRANTS AGAIN TO NAVAL OBSERVATORY NEAR VP HARRIS'S HOME
Local media reported that many of the victims could be members of an extended family returning from an outing, but authorities have not confirmed this, according to the Associated Press.
In the past, the high death toll in similar incidents in Mexico has often been attributed to overloaded vehicles linked to migrant smuggling.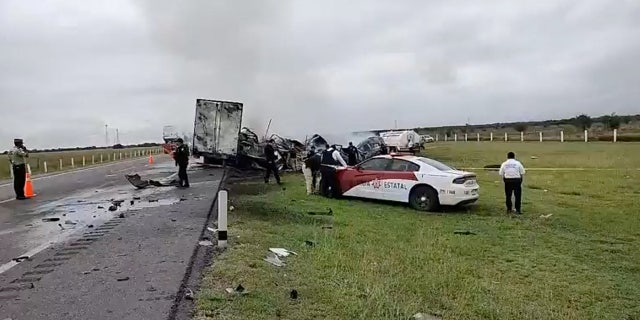 A source at the Tamaulipas prosecutor's office told Reuters that authorities have not confirmed whether the driver of the truck fled or was killed in the crash.
BIDEN SAYS BORDER LOOKS 'MUCH BETTER THAN YOU ALL EXPECTED' AFTER TITLE 42 ENDS, HAS NO PLANS TO VISIT
The source reportedly added that the passengers in the van, who are believed to have been from a private transport company, included children. The deceased victims are all thought to be Mexican as national ID cards were recovered from the scene.
The incident also comes just days after the expiration of Title 42 that resulted in a record surge of tens of thousands of migrants at the U.S.-Mexico border.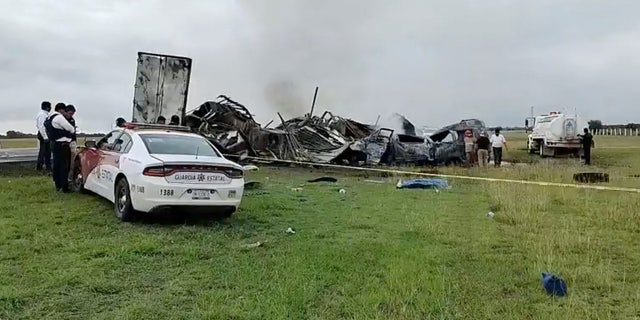 On Sunday, Homeland Security Secretary Alejandro Mayorkas said on CNN's "State of the Union" that in the previous two days, the US Border Patrol had seen a 50 percent drop in the number of encounters with illegal immigrants compared to what they were experiencing at the beginning of the previous week Title 42 expired at midnight on Thursday.
CLICK HERE TO GET THE FOX NEWS APP
Border Patrol officers logged 6,300 encounters on Friday and another 4,200 on Saturday, compared with a daily average of more than 10,000 just before the end of Title 42.
The Associated Press contributed to this report.