China said on Thursday its special envoy met with Ukrainian President Volodymyr Zelenskyy during talks in Kiev earlier this week.
Foreign Ministry spokesman Wang Wenbin said the meeting occurred during discussions between envoy Li Hui and Ukraine's foreign minister and other government officials.
"There is no remedy to resolve the crisis," Wang told reporters at a daily briefing. "All sides should create favorable conditions and accumulate mutual trust for the political solution."
The visit followed an earlier phone call between Zelenskyy and Chinese leader Xi Jinping.
For two days, Li and Ukrainian Foreign Minister Dmytro Kuleba discussed "ways to stop Russian aggression," Ukraine's foreign ministry said in a statement.
UKRAINIAN PRIME MINISTER ASKS POPE FRANCIS TO HELP FACILITATE RETURN OF UKRAINIAN CHILDREN FROM RUSSIA
Kuleba briefed Li, a former Chinese ambassador in Moscow, "on the principles of restoring a stable and just peace based on respect for Ukraine's sovereignty and territorial integrity."
According to the statement, Kuleba reiterated his government's position that Ukraine would not accept any proposal involving the loss of its territories or the "freezing of the conflict".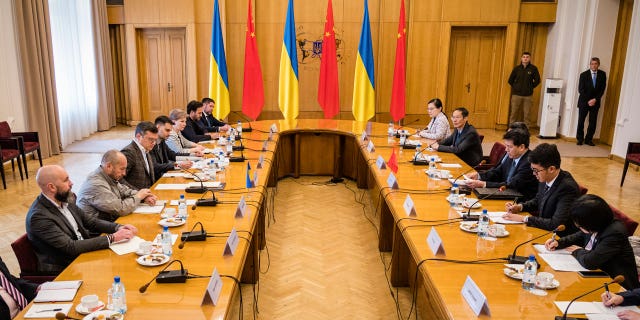 Xi's government says it is neutral and wants to mediate in the 15-month-long conflict, but has supported Moscow politically and economically.
China sees Moscow as a diplomatic and military partner in opposing US dominance of global affairs. Beijing has refused to criticize the invasion and has used its status as one of the five permanent members of the United Nations Security Council to deflect diplomatic attacks on Russia.
Beijing released a proposed peace plan in February, but Ukraine's allies largely rejected it, insisting that Russian President Vladimir Putin must withdraw his forces. Zelenskyy's 10-point peace plan also includes a tribunal to prosecute Russia's war crimes.
CLICK HERE TO GET THE FOX NEWS APP
China's foreign ministry said Li would also visit Poland, France and Germany, but did not provide details on his schedule.
Political analysts see little hope for a peace deal because neither Ukraine nor Russia is ready to stop fighting.
African countries are also undertaking a peace initiative on the war in Ukraine.