Rescue teams worked on Thursday to reach towns and villages in northern Italy that have been cut off from highways, electricity and cell phone services following heavy rain and flooding, as farmers warned of "incalculable" losses and authorities began to draw up cleaning and reconstruction plans.
The death toll from the rains that pushed two dozen rivers and tributaries over their banks was nine, with some people still missing, said Stefano Bonaccini, president of the hardest-hit northern Emilia-Romagna region.
Local mayors have warned that some remote villages are still completely isolated because landslides have made roads impassable and telephone service has been cut off. This prevented rescue teams from reaching out to residents and authorities to understand the full extent of their needs, Mercato Seraceno Mayor Monica Rossi said.
ITALIAN FORCES FLOOD RESIDENTS ON ROOFS, VENETIAN AUTHORITIES PREPARE TO ACTIVATE BARRIER IN THE LAGOON
"If it rains again, the situation will be tragic," Rossi warned on Sky TG24, as he stopped on a road with a piece missing due to a landslide.
By Thursday morning, parts of the city of Faenza were still submerged, with submerged cars and basements flooded with thick, sticky mud. A family standing on the balcony said they had no electricity, gas or food. Other residents took refuge in a local gymnasium, where soldiers set up cots on the basketball court for the new arrivals.
"At one point they told us to leave the area, and about an hour later we heard a loud bang," Faenza resident Claudia, 29, said Thursday, recalling the moment when the nearby Lamone River broke the embankments. "Water just flooded everywhere."
More than 10,000 people have fled their homes, some torn from roofs or balconies by rescue helicopters and others ferried on rubber boats. A family with a 20-day-old baby was rescued on Thursday morning, Cesena mayor Enzo Lattuca said. Another put their belongings in an inflatable pool which they floated down the thigh-high river of mud that was previously a road.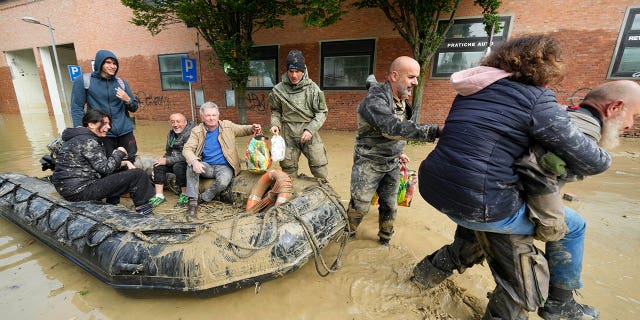 The drought-ridden region had already estimated around 1 billion euros in losses from heavy rains earlier this month, but Bonaccini said losses have now reached several billion due to widespread damage to farmland, shop windows and infrastructure. .
Italy's agricultural lobby Coldiretti said more than 5,000 farms with greenhouses, nurseries and stables had been flooded, covering thousands of acres of vineyards, orchards, vegetable gardens and wheat fields. He said the damage estimates were "incalculable" because not only current but future crops could be affected given the permanent damage to roots from the "choking" mud of the runoff.
THE STRETCHING IN ITALY CAUSES AT LEAST 2 DEATHS
Bonaccini has asked the national government to declare a state of emergency, which is likely when the cabinet meets next week after Prime Minister Giorgia Meloni returns from the G7 summit in Japan. The region has already said it is looking for reconstruction efforts and the restoration of vital infrastructure.
"It will take gigantic work" to recover, Bonaccini said in a daily briefing.
The Higher Institute for Environmental Protection and Research has identified Emilia-Romagna as one of the Italian regions most at risk of flooding, where both the territory and the populations face greater risks of "danger scenarios" than the rest of the country.
CLICK HERE TO GET THE FOX NEWS APP
The hardest-hit eastern part of the region, sandwiched between the Apennine mountain range and the Adriatic Sea, was first hit by heavy rains in early May. The second downpour tested the drought-barren soil's ability to absorb water, the institute said, adding that high sea elevations and coastal bora winds may have contributed to the flooding of rivers and tributaries.
Pope Francis has sent a telegram of condolences to the people of Emilia-Romagna, assuring them of his prayers, the Vatican said on Thursday.
Italy was not alone in dealing with heavy rains, as parts of Slovenia, Croatia and Bosnia also reported flooding and landslides requiring evacuations.