About 700 people have been evacuated from four small towns in western Spain after a fire stoked by high winds that razed some 20,000 acres, officials said on Friday.
More than 400 firefighters, including 50 from the army's military emergency unit, are fighting to bring the fire under control in Las Hurdes, a hilly area west of Madrid.
Officials suspect the fire, which started Wednesday night, was started intentionally as they say two separate fires broke out almost simultaneously.
SPAIN HAD THE HOTEST AND DRIEST APRIL EVER IN THE COUNTRY
The president of the surrounding region of Extremadura, Guillermo Fernández Vara, said the person responsible "knew very well what he was doing" to cause the most damage by starting the fire at night, making it more difficult to extinguish.
Police and officials believe that many fires in Spain were started intentionally. The reasons why are said to vary.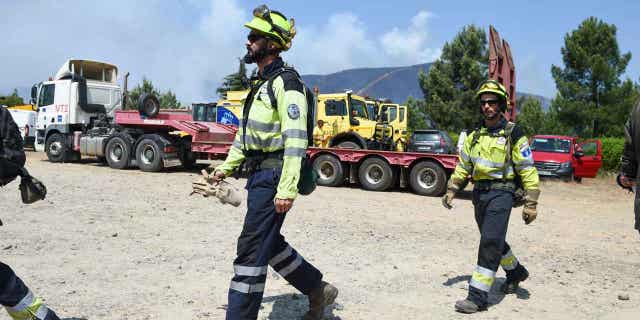 Fernández Vara said the problem on Friday wasn't a lack of means to fight the fire, but the winds.
SPANISH PRIME MINISTER SAYS DROUGHT HAS BECOME COUNTRY'S TOP CONCERN
"With 40 mph winds, it's hard to predict how it's going to play out," he told reporters, adding that the pine trees in the area were "virtual gas cans, flamethrowers."
Some 666,000 acres burned last year in Spain, making 2022 the worst fire year since 1994, government statistics say. It was three times the national average over the last decade.
CLICK HERE TO GET THE FOX NEWS APP
According to the European Union's Copernicus satellite observation service, Spain accounted for 35% of all land burned by European fires last year.
Spain has recorded its hottest and driest April on record and almost 30% of the country is now on "drought emergency" or "alert".