Paris Hilton says she is "heartbroken" after the death of her pet chihuahua.
The US media personality announced on social media that he had said goodbye to his "precious" Harajuku B****, who was 23 years old.
Hiltonhas posted a series of photos of the dog and some of his other pets, along with a message in tribute to the animal that "filled" his life with "so much love, loyalty and unforgettable moments".
She wrote, "Today, my heart breaks as I say goodbye to my precious chihuahua."
The 42-year-old socialite and businesswoman said her pet "lived a long, beautiful and iconic life, surrounded by love until his last peaceful sleep."
Hilton told her 23.7 million Instagram followers that "words cannot express the immense pain I'm in right now."
The former reality TV star said Harajuku B**** was more than just a pet: 'She was family to me, a loyal friend who was always by my side through every twist and turn life brought on my way".
The dog was a "little ball of love, which brightens even the darkest days," she added.
"Rest in peace my sweet darling… You will forever be my little angel, forever missed and forever loved.
"You may be physically gone, but the imprint of your footprints on my life will never fade," Hilton said.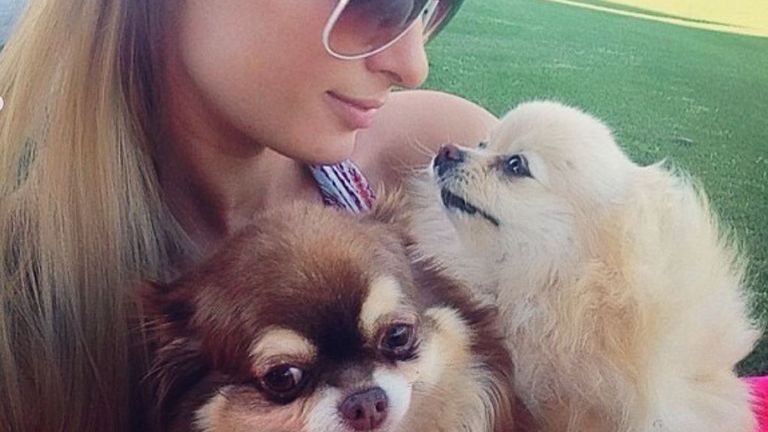 Last month, the American star shared the first photos of her baby called Phoenix Barron Hilton Reum.
Hilton, known for her business ventures and reality shows like The Simple Life, shared the black-and-white photographs on her Instagram page.
Hilton and his partner Carter Reum had kept the birth of their child – who they had via surrogacy – a secret, even from their closest friends and family.
To know more:
Hilton opens up about alleged abuse and trauma from infamous sex tape
In March, Hilton spoke to Sky News on alleged abuses of the so-called "troubled teen" boarding schools, which he famously attended, and has campaigned against ever since.