British police have arrested a lone driver after he drove a car into the gates of the British prime minister's residence on London's Downing Street on Thursday.
Police arrested the man on charges of felony damage and dangerous driving, but officials have yet to determine whether the crash was intentional. Armed security patrols the gate at all times, but nobody was injured in the incident.
The images showed the vehicle, a white sedan, crashing into the gate at relatively low speed.
"I heard a bang, I looked up and saw a lot of Taser-wielding police yelling at the man," witness Simon Parry, 44, told the Associated Press. "Many police vehicles arrived very quickly and were very quick to evacuate the area."
UK AUTHORITIES WILL NOT INVESTIGATE TICKETING COMPLAINTS ABOUT HOME OFFICER SUELLA BRAVERMAN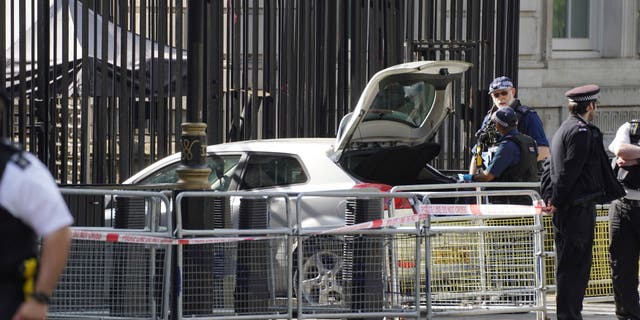 British Prime Minister Rishi Sunak was inside offices attached to the residence at the time of the incident.
ANGRY UK COMMUTERS RUN OVER PROTESTANTS FOR CLIMATE BLOCKING TRAFFIC WHILE COPS WATCH
London police shut down Whitehall, a main thoroughfare linking many of the city's famous landmarks and tourist attractions, in the aftermath of the incident. Officers immediately reopened the road to the public.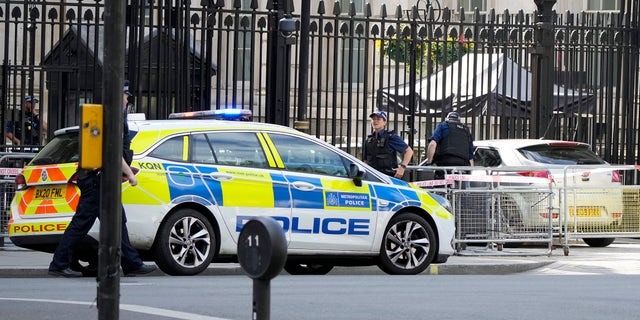 The incident comes about a month after President Biden's visit to Northern Ireland triggered a spate of terror threats in the region. British intelligence agency MI5 raised its terrorism threat level to "severe" in Northern Ireland during Biden's trip.
CLICK HERE TO GET THE FOX NEWS APP
The fencing around Downing Street was only put in place in 1989 after members of the Irish Republican Army terrorist group fired three mortar rounds into the avenue, landing in the courtyard of the prime minister's residence at 10 Downing Street .
The Associated Press contributed to this report.