Torrential rains in Sierra Leone's capital have downed the century-old cotton tree, a national treasure whose loss has left "a void" in people's hearts, the country's President Julius Maada Bio said on Thursday.
"There is no stronger symbol of our national history than the cotton tree, a physical embodiment of where we come from as a country," Bio told the Associated Press. "Nothing in nature lasts forever, so our challenge is to rekindle, nurture and develop that powerful African spirit for so long represented."
Standing 70 meters tall and 15 meters wide, the approximately 400-year-old tree has been the national symbol of Sierra Leone for decades.
It has appeared on banknotes, woven into lullabies and visited by royalty, such as Queen Elizabeth II, to celebrate the country's independence in 1961, according to a statement by Zebek International, a news agency working with the government of Sierra Leone. .
WILD WEATHER ON SOUTHERN PLAINS TO BRING HEAVY RAIN, TORNADO THREAT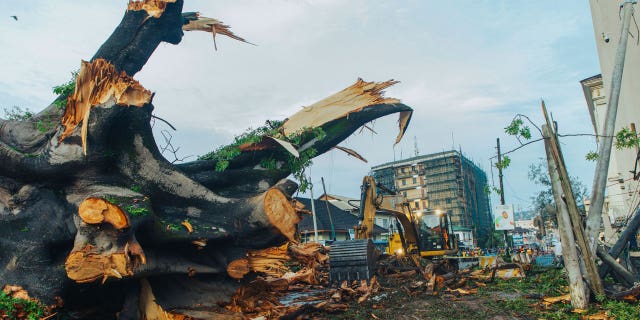 CLICK HERE TO GET THE FOX NEWS APP
While the tree has withstood damage over the years, including a lightning strike that left it partially burned, Wednesday's storm left nothing of the tree but a stump.
For Sierra Leone, the loss is comparable to the fire that destroyed Paris' Notre Dame cathedral in 2019, Zebek, the government news agency, said.
Sierra Leone is among the countries most affected by climate change. In 2017 more than 1,000 people were killed by a landslide caused by heavy rains.
President Bio said he looks forward to discussing how to best use the space.
"What the cotton tree represents will live on: how something so big and strong can grow from something (as small) as a seed, how many people can come together under the protection of something greater than the sum of their parts; and how for centuries it would be an embodiment of our history, unity and resilience," he said.