Authorities in Venice, Italy, are investigating the source of a strange patch of phosphorescent green liquid that appeared in the city's famed Grand Canal on Sunday.
While no one has claimed responsibility for the canal's water color change, there was an event in Rome last weekend organized by an environmental group that used charcoal to turn the Trevi Fountain's water black. . The group said it was acting in response to the Italian government's climate policies.
Images and videos posted to social media show a bright green patch in the canal along populated areas of the city.
On Sunday, the city's firefighters posted a video of one of its boats sailing on the waters and said: "The green-colored Grand Canal is what the firefighters found this morning as we intervened together with ARPAV to collect samples and analyze this anomalous color."
THE MEDITERRANEAN DESTINATION TELLS TOURISTS ABOUT GETTING LOST AMONG THE PUSHINGS OF MAYOR LIBERAL
Environmental authorities are working to determine what caused the water to turn bright green.
Venice Interior Ministry representative Michele di Bari and police say the bright green liquid poses no threat to the health of residents and tourists.
GERMANY DENIES CHANCELIST CRITICISM OF CLIMATE PROTESTORS WHO INCITED RAIDS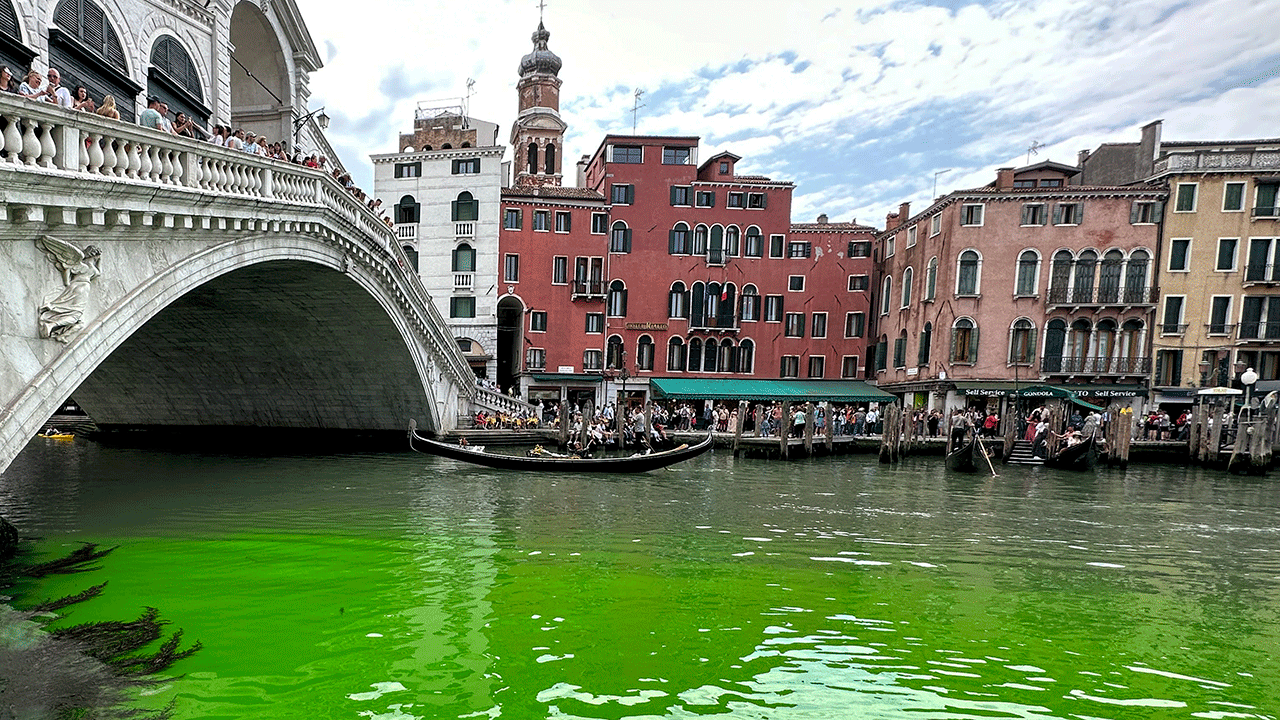 The governor of the Veneto region, Luca Zaia, has posted a photo of the green liquid that has spread into the water near the arch of the Rialto Bridge. The patch was reported by residents. Zaia said officials had asked police to investigate to determine who was behind the event.
CLICK HERE TO GET THE FOX NEWS APP
The latest incident has also drawn comparisons to a 1968 event by Argentine artist García Uriburu who dyed the waters of the city's Grand Canal green to promote ecological awareness during the internationally recognized cultural festival, the Venice Biennale.
The Associated Press contributed to its report.