The shooter who killed seven people at a Jehovah's Witnesses building in Hamburg was a former congregation member who had been tipped off to police, German police said.
The 35-year-old, referred to by police as Philip F, left the religious community 18 months ago with "unease", Hamburg police chief Matthias Tresp said on Friday during a 'a press conference.
An anonymous letter was sent to police about him in January saying he may be suffering from mental illness and should not be allowed access to weapons as he was not seeking medical help.
A gunman attacks the hall of Jehovah's Witnesses

He held a sports shooting license and reportedly felt enraged at religious people, especially Jehovah's Witnesses, and his former employer, Mr Tresp said.
The shooter was unmarried, had lived in Hamburg since 2014 and had studied in Munich before that.
In response to the letter, on February 7, two officers searched his apartment unannounced and found his semi-automatic pistol securely stored in a safe.
They saw no evidence of mental illness and therefore did not seek a health evaluation, authorities said.
He was described then as being "cooperative" and "happy to give information".
The suspect had reported crimes, including fraud, but had no criminal history himself and was not otherwise known to police, they added.
'Unborn child' killed in Hamburg shooting

Found dead with a gun beside him
Philip F was found dead with the same Koch pistol next to him inside the Jehovah's Witnesses building in the Gross Borstel district just after 9 p.m. Thursday.
He shot a woman inside his car in the parking lot outside 10 times, but she escaped. Twenty other people fled the scene unharmed.
The suspect entered the building after shooting at a window and punching it through before running to a worship hall on the first floor.
seven people, including an unborn babywere shot there before he turned the gun on himself.
Eight others were injured, four seriously, out of a congregation of 50.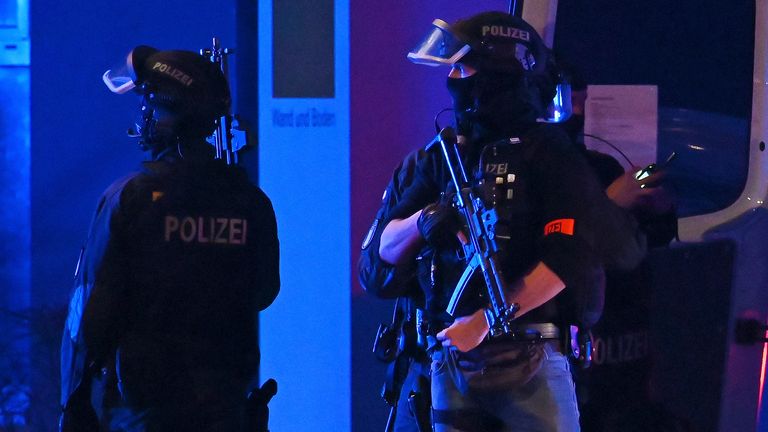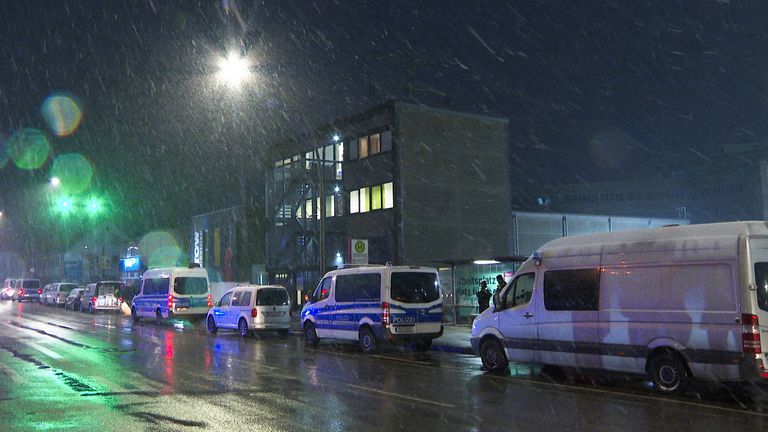 At around 12.30pm on Friday, police searched his apartment for a second time where they found 15 magazines, 200 cartridges, laptops and smartphones.
He was found with nine empty magazines, two in his hand and 20 loaded in his backpack.
The motive for the attack is not yet clear, but authorities have ruled out any political element, the police chief said at the press conference.