A drug smuggling operation in the Pacific Ocean went awry over the weekend when toxic gases were accidentally released inside a submarine the smugglers were using to move drugs, leaving two of the suspects dead and two others seriously sick, according to the Colombian Navy.
Inside the submarine, bound for Central America, were nearly 3,000 pounds of cocaine worth $87 million.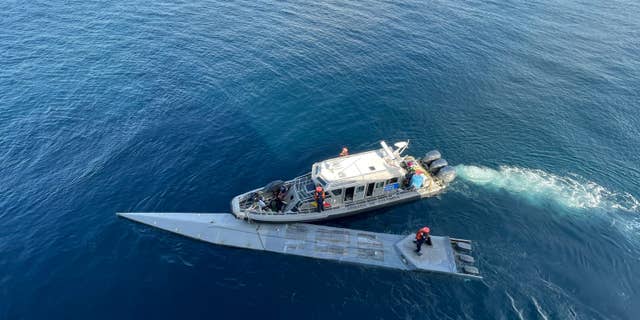 Two of the suspects, who were found atop the ship "in poor health," were given medical treatment before being transferred to the custody of local law enforcement agencies.
The submarine, which is about 49 feet long, suffered a type of accident that caused "the generation of toxic gases from the fuel," the Colombian navy said.
OHIO MEN ARRESTED FOR ATTEMPT TO SEND DOZENS OF GUNS TO MEXICAN DRUG CARTELS
Drug trafficking organizations have increasingly turned to makeshift submarines and semi-submersible devices to evade law enforcement.
Jose Samir Renteria-Cuero, a 51-year-old Colombian man who pioneered the use of semi-submersible vessels, was sentenced to 27 years in prison eight years ago.
CLICK HERE TO GET THE FOX NEWS APP
The Justice Department said Renteria-Cuero started out as a mechanic and built vessels specifically for drug trafficking, then "recruited sailors to participate in maritime cocaine smuggling operations."
"The Colombian Navy will continue to deploy all its capabilities to counter the scourge of drug trafficking structures that commit crimes in the Colombian Pacific," the Colombian Navy said on Sunday.