Boris Johnson will be questioned by MPs next Wednesday as part of the partygate investigation into whether he misled parliament when he was prime minister.
Mr Johnson has accepted the Privileges Committee's invitation to give oral evidence to them from 2pm on 22 March, the committee confirmed.
The session will be held in public and Mr Johnson will face questions from the committee, which is comprised of four Tory MPs, two Labor – including chair Harriet Harman – and one SNP MP.
Pensions change rumored to be in budget – live politics updates
His appearance will come two and a half weeks after the committee released a preliminary report after they were tasked with investigating whether Mr Johnson misled parliament over partygate allegations.
He claimed the interim report showed he was being "vindicated" and it is "clear from this report that I have not committed any contempt of parliament".
But the report said the Commons may have been misled by the former PM multiple times.
Mr Johnson repeatedly denied COVID lockdown rules were broken at Number 10 when asked in the Commons, but the report said evidence strongly suggests it would have been "obvious" to him rules were being breached.
The former PM had requested the evidence before he appeared in front of the committee to provide his own oral evidence.
He has been invited to provide written evidence ahead of the session as well, with any response to be published.
If Mr Johnson is found to have misled parliament he could be suspended from the Commons for 10 days, which could trigger a recall petition.
If 10% of voters in his Uxbridge constituency sign a petition he could lose his job as an MP as a by-election would have to take place – although he could run in it.
On 3 March, the committee published the evidence it has obtained so far in its initial 24-page report, including four previously unseen photos of Downing Street gatherings awash with bottles of alcohol, pictured here.
It said the Commons may have been misled multiple times, which would be contempt of parliament.
Read more:
Everything you need to know about the partygate investigation into Boris Johnson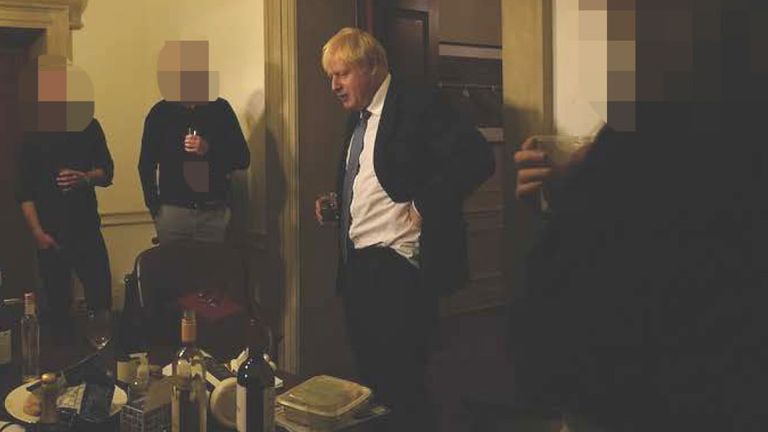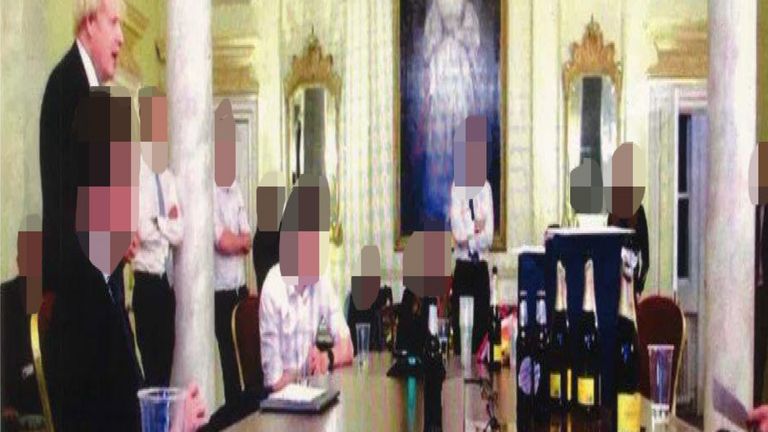 The report said: "The evidence strongly suggests that breaches of guidance would have been obvious to Mr Johnson at the time he was at the gatherings.
"There is evidence that those who were advising Mr Johnson about what to say to the press and in the House were themselves struggling to contend that some gatherings were within the rules."
The committee also laid out in the preliminary report what it will ask Mr Johnson when he appears in front of them.
It will consider why Mr Johnson told MPs no guidance had been broken "when he knew what the guidance was and was in attendance at gatherings where the guidance was breached".
And it will also look into "why he failed to tell the House about the gatherings at which he had been present".
The committee emphasized the report is not the final assessment, but "sets out next steps".
Partygate returns to haunt Johnson


Mr Johnson said after the interim report that not all the evidence in the report has come "from people on my side".
He accused the committee of relying on evidence "culled and orchestrated" by civil servant Sue Graywho led an inquiry into whether parties took place in Downing Street during lockdown.
Mr Johnson said the committee has emphasized their "wish to be fair" but has referenced the Second Permanent Secretary to the Cabinet Office on "no fewer than 26 occasions" in the report.
"That is, of course, Sue Gray," he said.
The committee said the report is not based on Ms Gray's report, she is not a witness and was not present when material from Downing Street and witnesses was presented to them.