Pakistan's information minister accused Imran Khan of "telling blatant lies" and denied that the arrest attempts were politically motivated.
In an exclusive interview with Sky News, Marriyum Aurangzeb insisted that "the government has nothing to do with the arrest. The arrest has nothing to do with the election delay."
The police, she said, were "just complying with the court order to arrest him in corruption cases".
It follows a tense standoff between police and Mr Khan's supporters outside his residence in the eastern city of Lahore.
The supporters of the former prime minister threw bricks at police who responded with tear gas and rubber bullets for a second day after officers tried to arrest the ousted leader.
Mr. Khan is accused of misusing state grants and facing a slew of corruption cases. He denies any wrongdoing.
Today he insisted he was ready to travel to Islamabad on March 18 to appear in court, but this was initially not accepted by the authorities.
Ms Aurangzeb said it was essential that he respond to the court.
"He must be arrested as ordered by the court and he must comply with the court orders," she said.
"The police are there to arrest him. If he has something to say in his defense, he has to say it in court."
Fight between police and supporters of former Prime Minister Imran Khan

The information minister dismissed claims that police injured supporters of Mr Khan and instead said 65 officers were injured as a result of the the confrontations.
She also rejected Mr Khan's claim that his safety was at risk – he has always maintained that appearing in court could jeopardize his safety following an assassination attempt.
"The guy says he has security threats and… in the same breath, Mr Khan says he is ready to hold political rallies. He is out there," Ms Aurangzeb said.
"The moment the court asks him to be there for his corruption cases, he says I have a security threat.
"So you know he has to stick to one thing and then when he has security threats, at the same time he incites violence and he puts women and children in front of the police forces who are right there to stop him."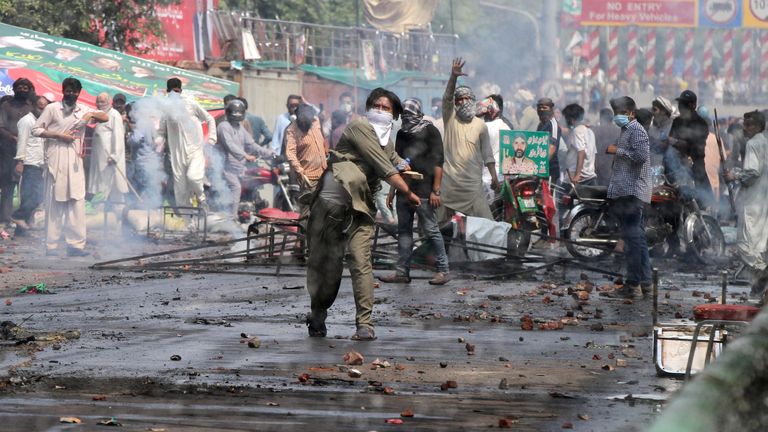 Read more from Sky News:
Khan's arrest operation halted after violence
As this legal battle between Mr. Khan and the state rages on, the country faces political and economic paralysis.
This impasse only adds to this mess and creates a moment of powder keg in an already feverish atmosphere.